XpressLab

Client Intro
XpressLab is a proprietary, web-based language learning platform and Software as a Service (SaaS) offering developed, maintained and managed by Wired Solutions. XpressLab and customized versions of the core platform, are currently licensed for use by the following clients:
Ministry of Education, Ontario (eLearning Ontario initiative): Since 2011, XpressLab has been licensed for language learning use in K-12 classrooms within Ontario's 4,897 publicly funded elementary and secondary schools. The platform is actively available for use by approximately 2.01 million students enrolled in these schools.
University of Windsor: The XpressLab platform is used to test the language competency of foreign students at the University of Windsor. The University of Windsor also uses XpressLab as a learning tool for students enrolled in the French Studies program and within French language learning courses on campus.
The Council of Ministers of Education, Canada (CMEC): A customized version of XpressLab was developed as part of a Pan-Canadian initiative for the Council of Ministers of Education, Canada (CMEC), through funding from Human Resources & Development Canada (HRDC). Education registrars in various Canadian jurisdictions use this customized version of XpressLab to effectively test the language proficiency of foreign trained teachers seeking employment in Canada.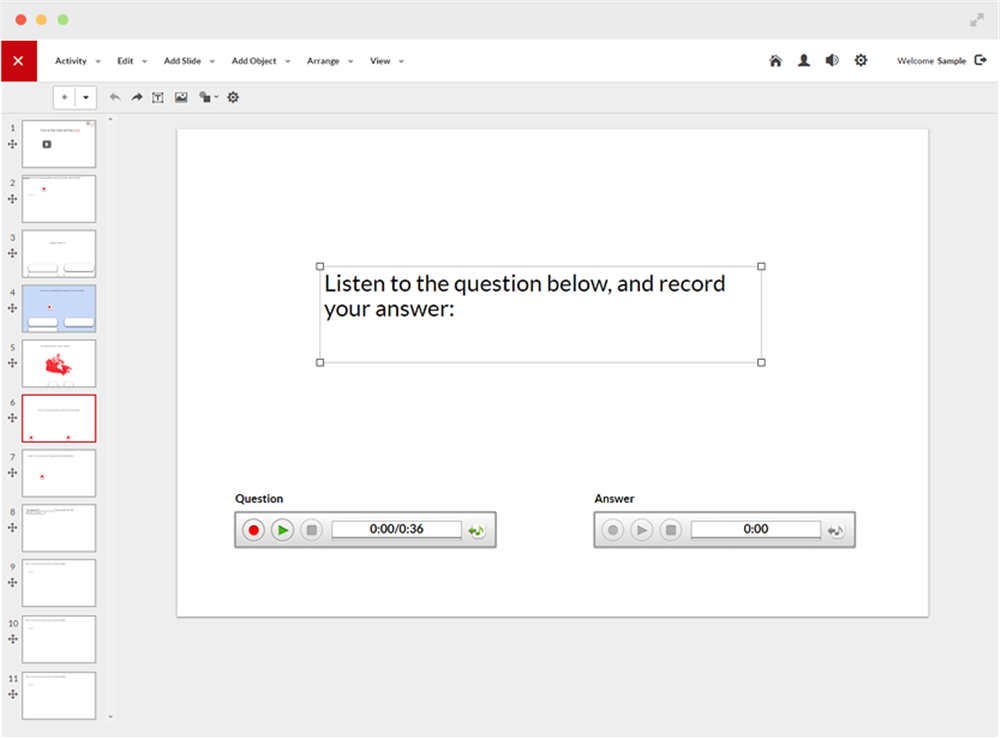 The Challenge
The Ontario Ministry of Education, through eLearning Ontario – the provincial e-learning strategy responsible for providing Ontario school boards, schools and students with access to valuable software resources – required a new way to boost French and language learning within K-12 classrooms. Learning a new language and effectively testing language proficiency was becoming increasingly difficult due to large class sizes and the tendency for students to shy away from speaking aloud in front of their classmates. In addition, new and emerging studies continued to prove the effectiveness of blended learning strategies for a wide range of school subjects.
Creating dynamic and interactive course content and language tests proved to be difficult and time-consuming due to the complexity of current eLearning tools in the marketplace.  Ontario school teachers required a user-friendly platform that allowed them to quickly and easily incorporate technology within their core curriculum. In order to support core proficiency indicators such as listening and speaking skills, the ability to record and playback audio clips, as well as  the ability to add video clips, graphic elements, would be a key priority.
Incorporating built-in interactive question formats and private one-on-one discussion forums directly into student submissions, would further support curriculum requirements.
In addition, Ontario students required a platform that made it easier for them to interact with complex subject matter and themes. Students needed a way to take language learning outside the classroom in order to practice their listening, reading and speaking skills. A private space for speaking aloud in a a new language would allow students to practice their skills without having to share their progress with other students in their class.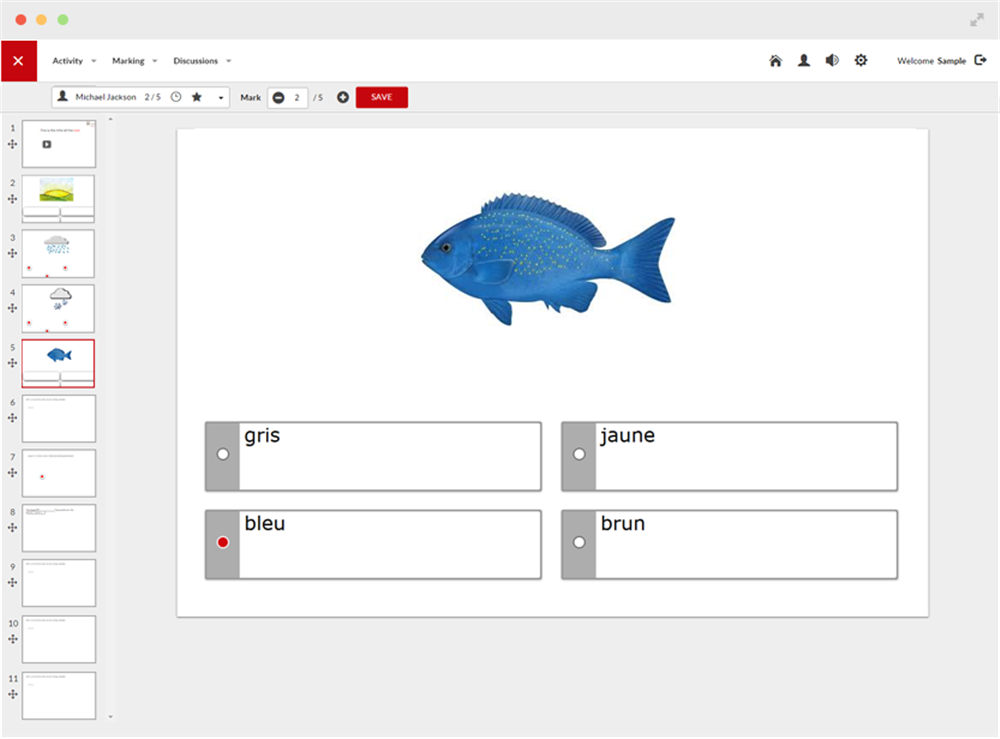 The Solution
In 2007, Wired Solutions collaborated with career language professor and pedagogy specialist Dr. Janet Flewelling in developing a robust, user-friendly platform designed to facilitate the creation and delivery of language proficiency assessments and course content. A slide-based authoring environment would allow teachers and administrative users to develop interactive proficiency tests and course content in an easy-to-use format similar to Microsoft PowerPoint. Assessment questions and presentations would be created as individual slides within an activity, using built-in question types such as: multiple choice oral and written questions, audio response questions, fill-in-the-blanks, written response questions, and more.
Built-in tools make it easy for teachers and test item writers to go beyond the typical constraints of text-based content, with the ability to add in audio recordings and video clips.  In addition, candidates were able to interact with stimuli by recording their own audio responses to test questions. We utilized highly recognizable icons within the slide-based environment in order to make adding multimedia elements easy and effective.
In addition, Wired Solutions developed the fully integrated XpressLab Library engine to support the sharing of course content and assessments within a registered user's school and school board, as well as privately in an well-organized private Library of original content. Teachers and administrative users were able to use the Library's highly intuitive search filters and features in order to locate content and assessment that fulfilled their specific needs. Library resources could be imported at the click of a button, edited if and when necessary, and administered to all students enrolled in a course. In addition, teachers/test writers could also easily export their courses, activities, and individual questions into the Library at any time.
Unique dashboards, such as the Course Dashboard and Activity Dashboard, make it easier for both teachers/test authors and students to locate their courses, submissions and evaluated assignments. Private discussion forums allow instructors and test-takers to collaborate one-on-one using audio recorded or written feedback. The ability to practice speaking, reading, writing and listening, while also gaining valuable and contextual feedback, ensures that students are effectively applying their knowledge, while also reducing performance anxiety.
In order to support the fully bilingual mandate of the Ontario Ministry of Education, we ensured that the entire XpressLab platform was localized for French and English users. Each user and user type maintain the ability to change their language preferences between English and French at any time. When not logged in, XpressLab detects a user's language preference and automatically displayed user-interfaces according to the user's browser language settings. In addition, an intuitive and easy-to-use Reports module allows teachers and admin users to create user-generated reports based on a wide range of reporting criteria.
Wired Solutions developed XpressLab with customization and integration in mind, in order to extend the use cases of the application beyond K-12 education. Since the platform's initial launch, Wired Solutions has provided full system integration with the Ministry's virtual learning environment, Desire2Learn (D2L), to facilitate streamlined workflows and account authentication for platform users, making it easier for students and teachers to authentic XpressLab accounts through active D2L accounts. Recently, the Ministry approved further XpressLab integration with our proprietary Course Writing System (CWS), which is an additional software application developed by Wired Solutions and licensed for use by the Ministry of Education, Ontario. Wired Solutions continues to actively develop new features, user interfaces, robust functionalities, and new iterations, with the support of funding from the National Research Council of Canada (NRCC).
Wired Solutions has further customized XpressLab to support the needs of post-secondary institutions, such as the University of Windsor, as well as pan-Canadian government organizations such as the the Council of Ministers of Education, Canada (CMEC).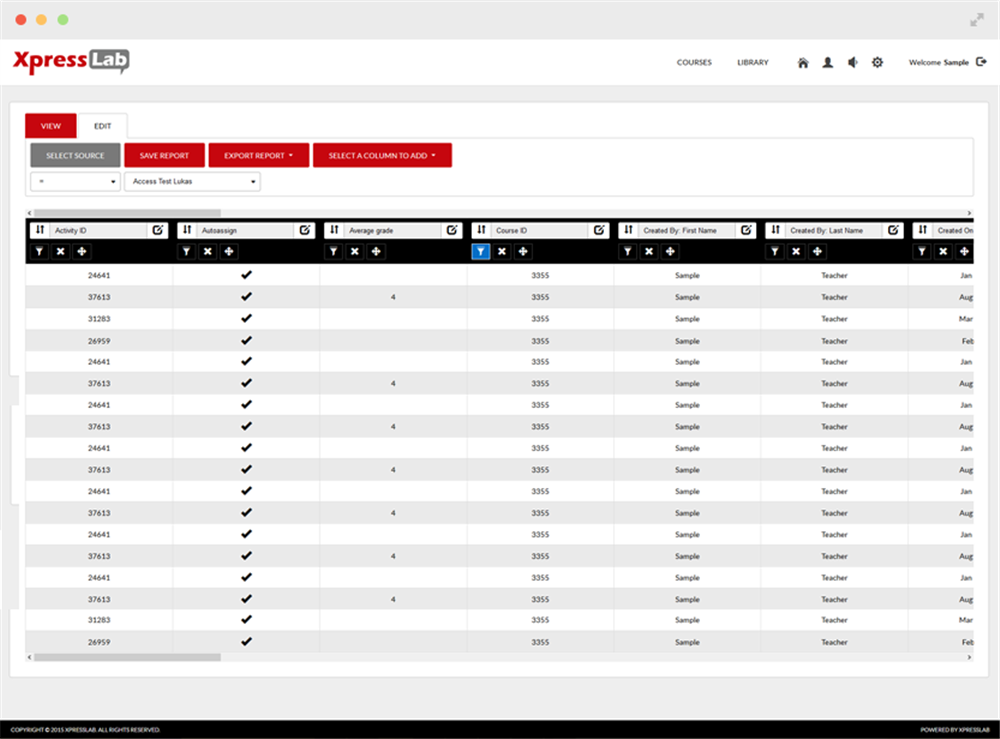 Supporting Technologies
XpressLab was developed with customization and integration in mind. In order to ensure the scalability of the platform, the following technologies and development frameworks were utilized:
Built in firewalls
C#
ASP.NET MVC 4
Javascript
Adobe Flash for audio playback and recording
SQL Server and SQL Server Agent